I watched the original SKAM over a year ago and I still can't stop thinking about it. I can not even begin to explain how much I adore and admire this show. SKAM is a Norwegian TV series where each season follows one teenager and their struggle through all of their relationships with their partner as well as with everyone around them. There are 4 seasons with around ten episodes a season and 20-40 minute episodes each.
WHY WATCH SKAM?
One of the most special aspects about this show is how authentic and personal it feels. Following the world through the specific character's perspective allows us to dive deep into their thoughts and emotions and really puts the audience in their shoes. We feel a personal connection to these characters because we watch as they sit in bed and stalk their crush or struggle to get out of bed, we are shown what they are feeling not told. We see even the mundane moments in their lives. The show's dialogue as well feels authentic and accurate, not too dramatic or cheesy, just like any other 16-18 year old. I love these characters....... so much. I want them to be my best friends.
SKAM definitely understands what it is like to be a teenager today and growing up in the world of social media. The show tackle issues like sexual assault, coming to terms with your sexuality, mental illnesses and other important topics that are sometimes brushed under the rug in media. One of the most remarkable things about this show is the fact that it is filmed in Norway so that their culture and their norms can be seen and understood. We are able to learn more about a different culture that many may have never even thought to look into which leads the viewer to respect and care about the culture and perhaps want to learn more. This is also extremely special because SKAM is now being remade all over the world and through the lens of many different cultures.
THE REMAKES
SKAM, unfortunately, only has 4 seasons which is still a humongous bummer but honestly, I have been loving the remakes. As of right now, France, Italy, Spain, Germany, the Netherlands, United States, and Belgium have made remakes but there are many more to come. Currently I have only watched SKAM France, Italy, United States, the Netherlands and Germany.
The original SKAM will always be so special and close to my heart but I have surprisingly been enjoying these remakes and have loved to see how each country has put their own twist on it. I was nervous at first that these remakes would ruin or tarnish everything I adored about the original SKAM but I have been pleasantly satisfied. It is pretty impossible to rank them considering I like some aspects of others and don't like other aspects as much but my favorites are definitely Germany, Italy, the Netherlands and most of France. The Netherlands SKAM has only had one season and one episode of the second season but so far I have so much hope and excitement for the second season and the show in general. SKAM Germany, Italy and France are in their third seasons right now and they are blowing me away.


SEASON THREE: My Everything
If you are new to SKAM, obviously start with the first season BUT my all time favorite and love of my whole life is the third season. The third season follows Isak who is struggling with his sexuality when he becomes entranced and develops a crush on a new student, Even. Isak is shown struggling with being able to be his complete self and being able come to terms with his sexuality. The season is beautiful and emotional and is an important story to be told. The season doesn't only deal with sexuality and coming out but also mental illness, friendship, religion and so many other topics that are dealt with carefully and thoughtfully. Isak is just such a lovable and well written character and their relationship feels authentic. They are clearly all that matter to each other. The season also shows him struggling to come out and talk about his problems with the people closest to him. Watching Isak come out to his best friend, Jonas, is one of my favorite parts of the series because we see that just because he comes out, nothing changes. He is still the same person and everyone around him will do anything to support him. This makes the season special in not only the original, but in all the remakes as well. Nothing can compare to the original but the remakes of the third season have been just as emotional and important. The SKAM France season, with Lucas and Elliot, is so intimate and intense that you become completely invested in their relationship as well as in SKAM Italy. I just adore the characters and the actors and the heartwarming, life-altering and influential relationships they have.
Minute per minute.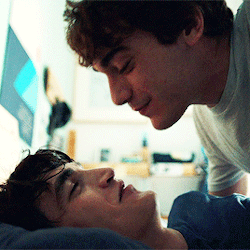 All in all, this show is worth the watch. It shows not only how important love is through your partner and through all the people around you but also shows love as a society and love for everybody. Our world really needs love right now and SKAM reminds us all the importance of caring about people no matter their sexuality, religion, ethnicity... ALT ER LOVE ("Everything is love.")


THE LOVELY CAST:
(I only put the remakes that I mentioned above so Spain and Belgium is missing here) (Sorry!)
The many Isaks:
(Isak, Martino, Lucas, Matteo, Shay, Lucas)
The many Evens:
(Even, Niccolo, Elliot, David)
The many Nooras:
(Noora, Elenora, Manon, Mia, Grace, Liv)
The many Evas:
(Eva, Eva, Emma, Hanna, Megan, Isa)
The many Sanas:
(Sana, Sana, Imane, Amira, Zoya, Imaan)
The many Vildes:
(Vilde, Silvia, Daphne, Kiki, Kelsey, Engel)
The many Jonas's:
(Jonas, Giovanni, Yann, Jonas, Marlon, Kes)
The many Williams:
(William, Edoardo, Charles, Alexander, Daniel, Noah)
The many Chris's:
(Chris, Federica, Alexia, Sam, Josefina, Janna)